"a deep-flowing river of a voice" (Sing Out! magazine)
For years, Diane Taraz has been writing her own original songs and breathing new life into traditional ones. She brings a dry wit and a light touch to explain the intricacies of her music. Audiences listen entranced as she sings a cappella, a challenging style at which she excels. Dirty Linen magazine calls her a "fine, inventive guitarist" and she plays lap dulcimer with equal passion.
On her CDs and in concert, Diane delves into fascinating corners of music. She draws inspiration from Celtic, British, French-Canadian, and American folk, plus blues and jazz. Performing live, she presents historic programs that focus on the American Revolution, the Civil War, and other eras.
Born in the Berkshire hills of western Massachusetts, Diane has long made her home in the Boston area. She directs the Lexington Historical Society's Colonial Singers (click on the name to visit) and sings with Vox Lucens, a 12-member a cappella Renaissance choir (click on the name for more), and the UUlations, a women's a cappella group.
Back in the studio!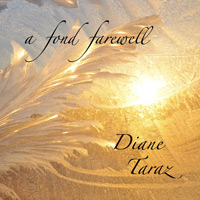 "My latest recording, A Fond Farewell, is a collection of memorial songs, uplifting and comforting. Half of the 14 tracks are new and half come from previous recordings.
There's a gorgeous version of Michael Smith's "The Dutchman," with Larry Luddecke adding poignant piano. Larry also adds gospel-tinged keys to a medley of "The Water Is Wide" and "Wade in the Water," and to a new song I have set to the traditional tune "Shenandoah," called "All Along the Journey."
Darol Anger brings his stunning bluegrass fiddle to "Wayfaring Stranger," "Will the Circle Be Unbroken?" and a solo setting of Gwyneth Walker's choral masterpiece "Crossing the Bar." His playing is just jaw-droppingly wonderful. Peter Tillotson once again powers the songs with his fretless and upright bass, and Stingy Lapel is in there drumming.
This is not, I sincerely hope, my farewell! I am working on another CD of jazz standards, with the usual suspects, plus Mr. Luddecke on keys. Here's to a good new year for all!!"
~ Diane
For more information, please contact us.