A Victorian Christmas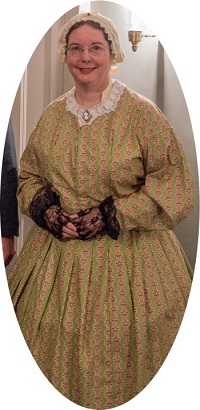 Many of our holiday traditions and much of our Christmas music was revived or created during the Victorian era, in the mid-1800's.
Diane presents these beloved carols, together with fascinating stories about their origins. She performs in a hand-sewn 1850s dress and accompanies herself on guitar and dulcimer.
This program always gets the audience singing along, creating a festive mood with songs both lively and tender.
For more information, please contact us.

The songs include:
- Jingle Bells, written in 1850 by James Pierpont of Medford, Massachusetts, when one could hitch a fast horse to a sleigh and dash through open fields now filled with buildings and roads.
- I Heard the Bells on Christmas Day, a poignant poem penned in 1864 by Henry Wadsworth Longfellow at the height of the Civil War, when "peace on earth" seemed a distant dream. Diane includes two verses about the war that are usually left out when this carol appears in hymnals or songbooks.
- O, Christmas Tree, a German folk song that evolved into a carol after Queen Victoria's German-born husband, Prince Albert, introduced the first decorated evergreen tree to England. The custom soon spread to America, which still drew many of its social traditions from England.
- 'Tilda Toots, a delightful romp from 1855 about a young man deeply in love with his girlfriend, Matilda, and her "fur-topped, pearl-buttoned boots." They meet with a perilous ice-skating accident, but he saves the day and the song ends, in classic Victorian style, with a wedding.
- Away In a Manger, which first appeared in print in 1885 but harks back to the medieval tradition of cradle-rocking in churches at Christmas.
- We Three Kings, written for an 1857 holiday pageant in New York City by John Henry Hopkins, an Episcopal deacon.
- Good King Wenceslaus, an 1853 creation, with music based on a 13th-century song. The lyrics praise the good-hearted Duke of Bohemia, who was born in 907 and died in 935 at the tender age of 28. Its connection to Christmas is mostly due to its praise of the virtue of charity, something dear to the Victorian heart.

- God Rest Ye Merry, Gentlemen, a song from the 1700s, mentioned in Charles Dickens' classic tale of redemption, A Christmas Carol. Dickens gave us a vivid account of life at a time when poverty was rampant and many depended on private charity, such as that promoted by the gentlemen who visit Scrooge seeking donations.
---
"The Victorian Christmas program was delightful. I had many people ask where I found such a wonderful talent. You made a great impression on the audience. Everyone enjoyed singing along and it was a perfect start to the holiday season."
-- Diane Lyford, Norhtborough Historical Society, 2017
---
"Diane's Victorian Christmas repertoire set just the right tone for our holiday wine tasting! Her beautiful voice and captivating stories on the origins of the songs and carols she performed were the highlight of the evening."
-- Jennifer Logue, Quincy Lion's Club, 2012
---