A Silver Dagger:
Exploring Women's History Through Folk Songs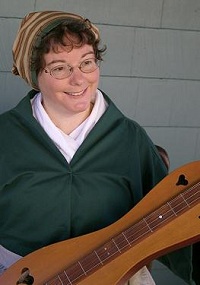 Passed down for generations, folk songs provide insights into the lives of ordinary people in centuries past. Diane mines these traditional songs for clues to the inner lives of people in Europe and America from about 1500 to 1850, especially women. Audiences are fascinated by the way attitudes and beliefs from the past still echo in our lives today.
Women left few written records, but we can learn much about them through the music that they used to speed their work, lift their spirits, or ease an aching heart. With a sparkling voice and wry humor, Diane performs songs of love, childbirth, marriage, and adventure.
Diane performs in traditional dress and plays lap dulcimer and guitar. She often sings with voice alone, the most authentic style. These are songs that brim with energy and humor, determination and despair, and all the joys and sorrows of a world lit only by fire.
To book this performance, please contact us.

The songs include:
- The Riddle Song
- A Brisk Young Sailor
- The Trees They Do Grow High
- Whistle, Daughter
- My Johnny Was a Shoemaker
- Never Wed an Old Man
- The Factory Girl
- Sorry the Day I Was Married
- The Death of Queen Jane
- Low Lands of Holland
- Me Husband's Got No Courage In Him
- Three Drunken Maidens
- Fair Maid Sailor
"A Silver Dagger" can be a one-hour program or a multisession workshop. It's a delightful and educational trip back in time, through some of the most beautiful and lively songs ever created.
---
"Thank you for your beautiful performance at the Bidwell House! You were even better than last year, which was a tough act to beat. I heard from every person how much they enjoyed the afternoon and how the combination of your storytelling and explanations and then your beautiful voice singing the songs was just perfect.
Please come back again!"
-- Barbara Palmer, The Bidwell House Museum, Monterey MA (2012)
---