"a deep-flowing river of a voice" (Sing Out! magazine)
For decades Diane Taraz has been writing her own songs and breathing new life into traditional ones. Her elegant voice brings out the essence of whatever style she presents, be it folk, jazz, blues, or standards. She plays Taylor and Santa Cruz guitars, and keeps stretching the limits of her lap dulcimer, taking it to unexpected places where its quirky charm shines.
Steeped in history, Diane creates programs that use the music of an era to show the inner lives of people who lived long ago. Women, especially, left behind few records of their existence, but the songs they used to speed their work, sing a child to sleep, or ease an aching heart show us their minds and hearts. Diane is on the Scholarly Advisory Board of the Gilder Lehrman Institute of American History, based in New York City, and brings her programs to museums, universities, libraries, and historic houses throughout New England.
Robert A. Perry, Executive Director of the Charles River Museum of Industry in Waltham, Mass., says, "Diane does an extraordinary job weaving together history and performing arts through storytelling and beautiful song. Her meticulous research, musicianship, engaging presence, sense of humor, period costumes, and professionalism allow her audience to lose themselves in a delightful experience that transports them to another time. New England historical sites and history buffs are incredibly fortunate to have Diane Taraz in our midst to bring our past to life!"
Diane directs the Lexington Historical Society's Colonial Singers, a group of music-loving reenactors. She researches and arranges songs, teaches them to the group, and leads them in various Society events in Lexington, including Patriot's Day and July 4 programs. She has produced two CDs for the group, and in 2017 and 2018 directed three presentations of a play from 1728, The Beggar's Opera, which she adapted. For more about this group, click on LHS Colonial Singers in the green box.
Diane also sings with Vox Lucens, a 12-member a cappella Renaissance choir, and is their president.
Four New Singles!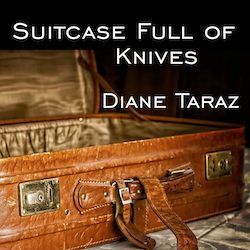 "Click on Music videos in the green box to enjoy Suitcase Full of Knives, Dream Lover, The Aggravation Tango, and If Ever I Would Leave You. They feature Billy Novick on sax or clarinet, Peter Tillotson on bass, and Larry Luddecke on piano. Thanks, guys!"
~ Diane
For more information, please contact us (click on the words "contact us" to see how).