Mrs. Clarissa Claus (ageless)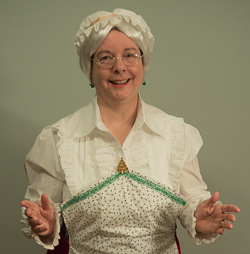 Clarissa Claus is, of course, the wife of Santa Claus, and she puts up with a tremendous amount of mischief living at the North Pole with all those elves and reindeer. She accepts it all with good cheer.
She helps Santa throughout the year and keeps those elves on their toes. She is a superb baker, famous for her cookies and Yule logs. Dasher, Dancer, Prancer, Vixen, Comet, Cupid, Donner, and Blitzen all love to poke their long noses through her kitchen window and beg for a carrot. Rudolph always gets a sugar cube, for he is her favorite.
Invite Clarissa to your next gathering and she will perk things up with her twinkly smile. She might serve some delicious tidbits or warble a carol or two. She might tell some fairy tales or recite some ancient nursery rhymes still enjoyed today. And she will definitely spill the beans about Santa's foibles. They have been married a VERY long time, and she has lots of stories to tell! And oh, those elves!